Top 20 Tips for Preparing Your House for Sale
Tips to Improve Your Home's Curb Appeal
1. Give your entry a makeover
You can either use a fresh coat of paint or a new front door.
2. Landscape your yard
A well groomed lawn shows buyers that the home was taken care of.
3. Make sure all exterior lights are in working order
Also be sure to replace all outdoor light bulbs.
4. Wash all of your windows (inside and out)
You don't want to take away from a great view with dirty windows!
5. Clean out your garage
Consider getting a storage unit to store any non-essential items.
6. Add a pop of color by planting flowers
This will depend on the climate in your area, but a little gardening can go a long way.
7. Remove any lawn ornaments
If you are planning on bringing them into your new home, remove them before having buyers come see it.
8. Replace or remove a worn out welcome mat
This will be what welcomes buyers as they tour your home.
9. Paint or replace the street numbers on the house
Making them more visible will make it easier for buyers to find your home.
10. Power wash any outdoor surfaces
This will make your sliding doors, sidewalks, driveway, etc. appear brand new.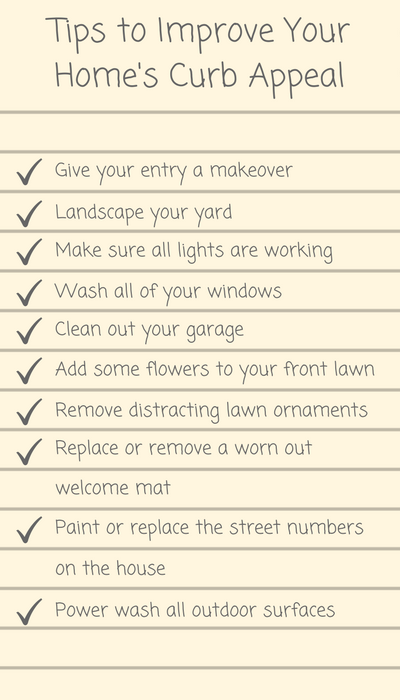 Tips to Make Your House Feel Like Home to Buyers
11. Clean everything!
A clean home will allow buyers to picture themselves in the space and not distract them.
12. Give every room a purpose
Even if it is just a bonus room, giving it an identity will help buyers envision how they could use the room.
13. Let the light in!
Bright rooms with natural light feel warm and inviting, while dark room can feel small and gloomy.
14. Fix anything that is broken
Buyers will notice and may offer less for your house if repairs are required.
15. Declutter your house
Thinning out your closets and pantries will showcase how much room is actually available and make spaces appear larger.
16. Fresh paint and new carpet
These are the top 2 things you can do to help your home sell faster and for more money.
17. Organize the kitchen
Store any non-essential items, small appliances, & clean all surfaces.
18. Empty all trash bins and hide all dirty laundry
This should be done before your home is ever shown.
19. Make sure all doors open and close smoothly
Fix any squeaks on bedroom or closet doors.
20. Replace light bulbs with new ones
Also be sure to check that all switches work